MOTHER-DAUGHTER WEEKENDS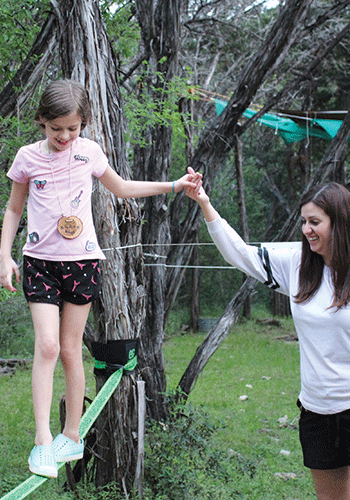 These are special weekend getaways for you and your camp-age daughter to spend time together, away from distractions, in the great outdoors.
We've designed the retreats to include loads of fun activities, spend time together outdoors, and to give your daughter a taste of summer camp!
Enjoy quality time in the great outdoors!

**Create an account to get on a waitlist for a 2020 Mother Daughter Weekend!
REGISTER ONLINE Manage My Account

MOTHER-DAUGHTER WEEKENDS
Apr 17-19, 2020 | Apr 24-26, 2020 Rescheduled for Oct 9-11, 2020 | Oct 23-25, 2020
Sep 18-20, 2020 | Sep 25-27, 2020
SAMPLE SCHEDULE
FRIDAY
6pm – Check-in begins (in The Forty Niner)
7:15pm – Group games and mother-daughter photos
8pm – Evening program: Mother-Daughter Slumber Party, Movie Under the Stars at our outdoor theater, or other whole-group activity
SATURDAY
8am – Breakfast
9am – 1st Class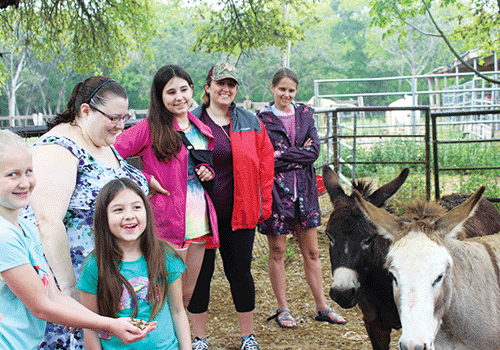 10am – 2nd Class
11am – 3rd Class
12:30pm – Lunch
1:30pm – Free Time (Canteen Store shopping, games in The Forty Niner, projects in the Craft Room, kayaking in the river, swimming in the pool, practice for the Talent Show)
6 pm - Dinner in The Grubstake
6:45pm - Talent Show (in the Forty Niner)
8pm - S'mores and songs at River Campfire
SUNDAY
8am – Breakfast, pack up and goodbyes
LODGING
Rocky River Ranch is a rustic summer camp with dormitory-style bunkhouses with bunk beds. Cabins are heated and air-conditioned, with their own shower and toilet facilities. Plan to bring your own bedding (sheets, blankets and pillows), as well as your own toiletries and towels (for swimming/showers).
COST
$295 Mother-daughter pair (one adult, one child 5-13)
$75 Additional daughter(s)
$150 Additional adult(s) (aunts, grandmothers, etc)
Mother-Daughter Weekends are designed for daughters between the ages of 5-13. Your cost includes two nights of lodging and 4 delicious meals.
Refund policy: cancelations made one month before event begins will receive refund of fees paid minus the non-refundable deposit.