MOTHER DAUGHTER RETREATS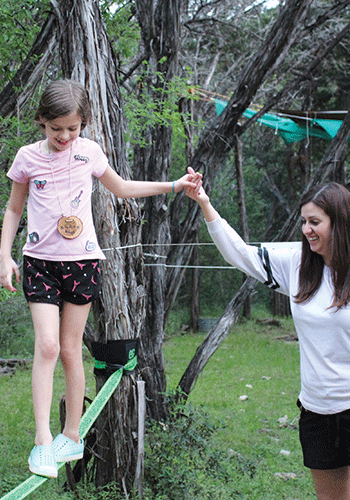 These are special getaways for you and your camp-age daughter to spend time together, away from distractions, in the great outdoors. We've designed the retreats to include loads of fun activities, spend time together outdoors, and to give your daughter a taste of summer camp!
One Day Event- Saturday Only

April 10th | April 17th | April 24th
SAMPLE SCHEDULE
8:45 Check- In begins - pick up info & materials for self paced activities

9:00 - Noon Morning Activities Open
Example Activities
Barn Animals (the barn will be open and staffed so you can meet, feed and hang out with our camp animals).
Kayaking and Fishing at the River (equipment available and staff will be there to help you)
Crafts (fun activity to make a keepsake, there will have staff to help you and materials set out in the Canteen-A area at picnic tables)
Outdoor Games (all around the tennis court area you will find activities to do with your MD pair such as slackline, spikeball, 9 square in the air, 4 square, inflatable axe throwing, bocce ball and more)
Noon - 1:00 Lunch Hour
1:30 - 5:00 Afternoon Activities Open
Example Activities
Stand Up Paddleboarding and Free Swim in the River (lifeguards and staff there to assist)
Craft (same set up as the morning, different craft activity)
Outdoor Games (same set up as the morning)
Swimming Pool Open (lifeguard there to assist)
5:00 - 6:00 Free Time while the staff set up the Campfires

6:00 Dinner
7:00 Talent Show (held at the outdoor seating area above the pool)
8:00ish Head down to the Corral Theatre for a relaxing movie under the stars

10:00ish Say your goodbyes
COST
$195 Mother-daughter pair (one adult, one child 5-13)
$50 Additional Attendee
Full Weekend Events
Sept 10th-12th | Sept 17th-19th | Sept 24th-26th
SAMPLE SCHEDULE
FRIDAY
6pm – Check-in begins
7:15pm – Group activity begins
SATURDAY
8am – Breakfast
9am – 1st Class
10am – 2nd Class
11am – 3rd Class
12:30pm – Lunch
1:30pm – Free Time (Canteen Store shopping, games in The Forty Niner, projects in the Craft Room, kayaking in the river, swimming in the pool, practice for the Talent Show)
6 pm - Dinner in The Grubstake
6:45pm - Talent Show
8pm - S'mores and songs at River Campfire
SUNDAY
8am – Breakfast, pack up and goodbyes
LODGING
Rocky River Ranch is a rustic summer camp with dormitory-style bunkhouses with bunk beds. Cabins are heated and air-conditioned, with their own shower and toilet facilities. Plan to bring your own bedding (sheets, blankets and pillows), as well as your own toiletries and towels (for swimming/showers).
COST
$295 Mother-daughter pair (one adult, one child 5-13)
$100 Additional Attendee
All Mother-Daughter Events are designed for daughters between the ages of 5-13. Your cost includes fun activities, bonding expereinces with your daughter, yummy food, songs galore, time around a campfire and of course- SMORES!
Refund policy: cancelations made one month before event begins will receive refund of fees paid minus the non-refundable deposit.
Enjoy quality time in the great outdoors!

**Online registration for 2021 Mother Daughter Weekends opens on October 15th at 9:00 am!
REGISTER ONLINE Manage My Account