HORSEBACK RIDING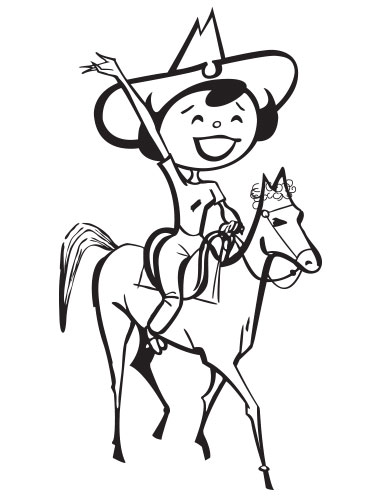 Rocky River Ranch has a long tradition of horseback riding and our current leadership focuses on a high safety standard. Our program is certified and our horses are chosen for their temperment and experience with young riders. In addition to proper riding techniques, we also focus on proper care of horses and tack.
Horseback: Barn Girls
Our main focus is on Western riding and Horsemanship skills. Our riding lessons are built around teaching the Secure SeatSM skill-driven system* from the American Association for Horsemanship Safety. Through these lessons, we hope to teach and improve each rider's balance and basic skill set, so that they can be successful in any equestrian discipline they choose to pursue. Because our program caters to a wide variety of riders, a lot of whom are more inexperienced, our priority is always safety.


Unlike traditional lesson barns, many of our campers' only opportunity to ride is during their week at Rocky River Ranch. Due to this, we try to place riders in lessons at a pace where every camper can excel. Our Horseback Riding classes give various ground and riding activities through which to learn. Riding activities will include lessons on Secure-Seat riding skills, as well as games in order to practice each new technique as they learn.

*The Secure Seat Method was developed by equine professionals as a step-by-step lesson program that teaches balance and control through the rider's seat. Some of these steps include teaching proper alignment, a steady lower leg, posting, standing and sitting trot, and canter/lope only after passing a strict test.
How It Works:

Step 1: During online registration you will choose your morning classes and then indicate if you are interested in being considered for a Horseback Riding Class.

Step 2: Everyone who indicates interest will be sent an updated 'Horseback Program Information Form' to complete that will have an important due date. Please follow the instructions and complete the online form in a timely manner in order to be considered for a spot.

Step 3: The barn director will review the forms and you will be sent an email offering you a spot at either the 9:00, 10:00 or 11:00 class hour. Please respond to the email and either accept or decline the class spot (your camper may choose to keep her already scheduled class if it's something she is really excited about) right away.

Step 4: Once the class is accepted, you will be given instructions on how to pay the $35 fee as well as additional details about your riding class, the barn, and what to pack and how to prepare for for the best horseback experience possible!