HORSEBACK RIDING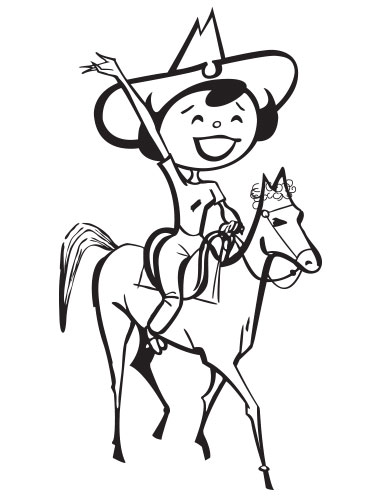 Rocky River Ranch has an exceptional horseback riding department with an extremely high safety standard. Our program is certified and horses are matched to each camper with temperament and experience in mind. In addition to proper riding techniques, we also focus on proper care of horses and tack.
Horseback: Barn Girls
Our main focus is on Western riding and Horsemanship skills. Our riding lessons are built around teaching the Secure SeatSM skill-driven system* from the American Association for Horsemanship Safety. Through these lessons, we hope to teach and improve each rider's balance and basic skill set, so that they can be successful in any equestrian discipline they choose to pursue. Because our program caters to a wide variety of riders, most of whom are beginners, our priority is always safety.

Unlike traditional lesson barns, many of our campers' only opportunity to ride is during their week at Rocky River Ranch. Due to this, we try to conduct our lessons at a pace where every camper can excel. Our Barn Girls class gives both equine enthusiasts, as well as those new to horses, various ground and riding activities through which to learn. Riding activities will include lessons on Secure-Seat riding skills, a trail ride through the pasture, and a chance to ride multiple horses. Our ground lessons will cover tack and equine knowledge while participating in activities and games with our incredibly patient and calm horses. All levels of riders are welcome!

*The Secure Seat Method was developed by equine professionals as a step-by-step lesson program that teaches balance and control through the rider's seat. Some of these steps include teaching proper alignment, a steady lower leg, posting, standing and sitting trot, and canter/lope.
Summer 2021 Update
In order to have more fun and age appropriate lessons, horseback is now organized by grades at different hours. Barn Girls is focused on learning about horses from the ground up. Our lessons mix horseback riding techniques and fun horse care! In ground lessons, we'll teach grooming, saddling, anatomy of the horse, roping and more. In the riding portion, we'll work on western equitation, safe riding habits, riding games, and trail riding. Equine enthusiasts of all skill levels welcome!