STAFF & COUNSELORS
Mary "Skeet" Anderson
Co-Owner

Mary earned her degree in Elementary Education from Texas Tech University and was Field Director for Girl Scouts for 17 years before joining RRR in 1966. Her experience has proven an excellent background for working effectively with children in camping activities. She, along with Sandy Bateman, purchased Rocky River in 1971 with a clear goal in mind — to continue the magical traditions that were founded so lovingly by founders, Carol "Mama" Knolk and Jane Brown. Skeet's enthusiasm and excitement for the experience of camp is clearly contagious to her cherished campers.



Rue Hatfield
Co-Owner, Executive Director

As Skeet's niece, Rue literally knows camp from the ground up. She has been a Rocky River camper, counselor, Assistant Director and Director. She is now the Executive Director and oversees all areas of camp. Rue earned her Bachelors degree in Child Development from Texas Tech University and her Masters in Education from Texas State, followed by several years of teaching both kindergarten and second grade. Her never-ending love and respect for children are the basis for the continuing success of Rocky River Ranch.
Email: rue@rockyriverranch.com



Shanna Watson
Camp Director
Shanna joined the Rocky River family in 2003, bringing her vast camping experience with her. Her camping career started while she was earning her BA in Child Development from the University of Texas. She spent her summers at John Knox Ranch where she was a counselor, Trip Leader, CIT Director, and eventually became the Assistant Camp Director. Before coming to RRR she spent time as the Director of a YMCA camp and worked with teen girls at a Texas Wilderness Program. Shanna is dedicated to hiring, training and supervising our amazing summer staff and is whole heartedly committed to the mission of growing independent girls. Her vision, leadership and compassion inspires others and she is an outstanding role model for campers and staff alike.
Email: shanna@rockyriverranch.com



Hannah Brock
Day Camp Director
Hannah fell in love with camp and with Rocky River as a 9-year-old girl and has not missed a summer since. She grew up in Austin and then attended Southwestern University in Georgetown. During college she majored in Education, getting her teaching certificate in Early Childhood through 6th grade and Special Education. After graduation, she spent a year in Utah working for Playworks, a non-profit organization focusing on the positive effects of play. During the summer of 2014, she came on board at RRR full time. As Day Camp and Program Director, she creates activities that are thoughtful, intentional, creative and fun.
Email: hannah@rockyriverranch.com


Cameron Campbell
Communications Director
Cameron grew up in Dripping Springs just down the road from Rocky River. She started attending camp at 6 years old with her older sister and cousins and went on to be a counselor. She graduated from The University of Texas at Austin Class of 2017 with a Bachelors of Science in Advertising, Business Foundations certificate, and Spanish minor. Cameron's role in camp is vast as she not only handles all camper registration and paperwork, she also supervises the challenge course activities, care packages orders, and online communications.
Email: cameron@rockyriverranch.com


Maddie Hamill
Program Director
Maddie has been a Rocky River girl since she was nine years old. She was a camper for seven years and a counselor for five. As soon as she started thinking about colleges, she knew she wanted to go somewhere to earn a degree that would lead her to a career in recreation. In May 2018 she received her BS in Recreation Administration from Texas State University. While at Texas State she worked for their Campus Recreation department in the Aquatics and Outdoor program areas. Her experiences and education prepared her to take on the role as Waterfront and Leadership Director. She spends her time training and supporting the lifeguards as well as overseeing the first two tiers of our staff-in-training program.
Counselors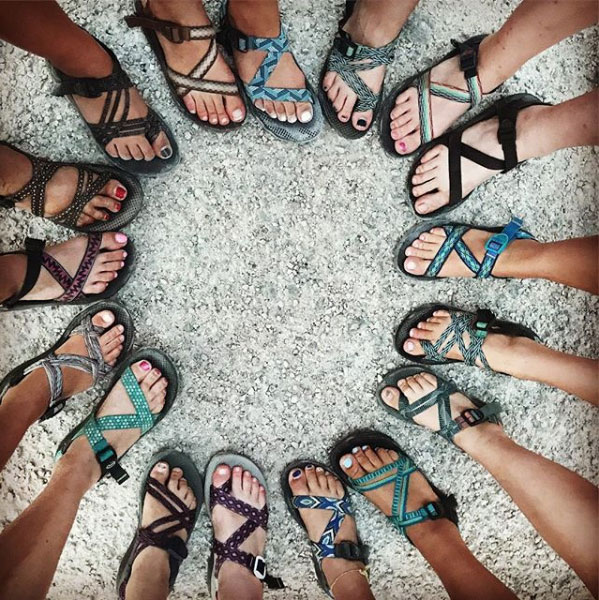 College students and graduates are carefully screened for counselor positions. Applicants who exhibit strong leadership qualities, personality, teaching abilities, patience and sincere desire to help campers learn new skills and inspire them to be valuable members of society, are chosen. We select counselors with training and experience in working with children as well as skills to share with them.

We feel it is important that counselors enjoy and understand children, are good role models, work well with other adults and enjoy the out-of-doors.

Our counselors share a sense of joy in the camping experience... from participation to leadership. We understand the importance of choosing most carefully the people who will help provide a child the experience of a lifetime.

Many of our counselors are "home-grown" and understand the Rocky River philosophy and way of life from personal experience.

Rising 9th - 12th graders can participate in our special leadership program. Participation in this program, from Trainee to Staff-in-Training (SIT) to Junior Counselor (JC), teaches valuable leadership skills that they will use for the rest of their lives.